Top 10 Camping Gifts for Men in 2023
With the holiday season upon us, it's time to start thinking about how we can enhance outdoor activities for the men in our lives, whether they're fathers, brothers, sons, or friends. Finding the right camping gifts for men is about more than just finding a present; it's a way to enrich their outdoor adventures and show them how much you care. 
So, whether you're shopping for a seasoned camper or a rookie ready to embark on his first wilderness adventure, we've curated a list of the top 10 camping gifts for men this year. 
Let's get started on finding that perfect gift that will bring a smile to their face and make their next camping trip unforgettable!
Disclosure
At PNWBUSHCRAFT, we prioritize bringing you the best recommendations for your outdoor adventures. 
While our suggestions are largely influenced by the numerous positive reviews each product has garnered on Amazon, it's important to mention that we haven't had the opportunity to personally test all of them. Nevertheless, we believe the collective voice of the Amazon community serves as a resourceful guide for your needs.
Also, this post contains affiliate links, which means we make a small commission when a purchase is made after clicking through a link. This comes at no additional cost to you. Thanks for your support!
Related: Top 10 Outdoor Gift Ideas for Mom in 2023
The Best Camping Gifts for Men from PNWBUSHCRAFT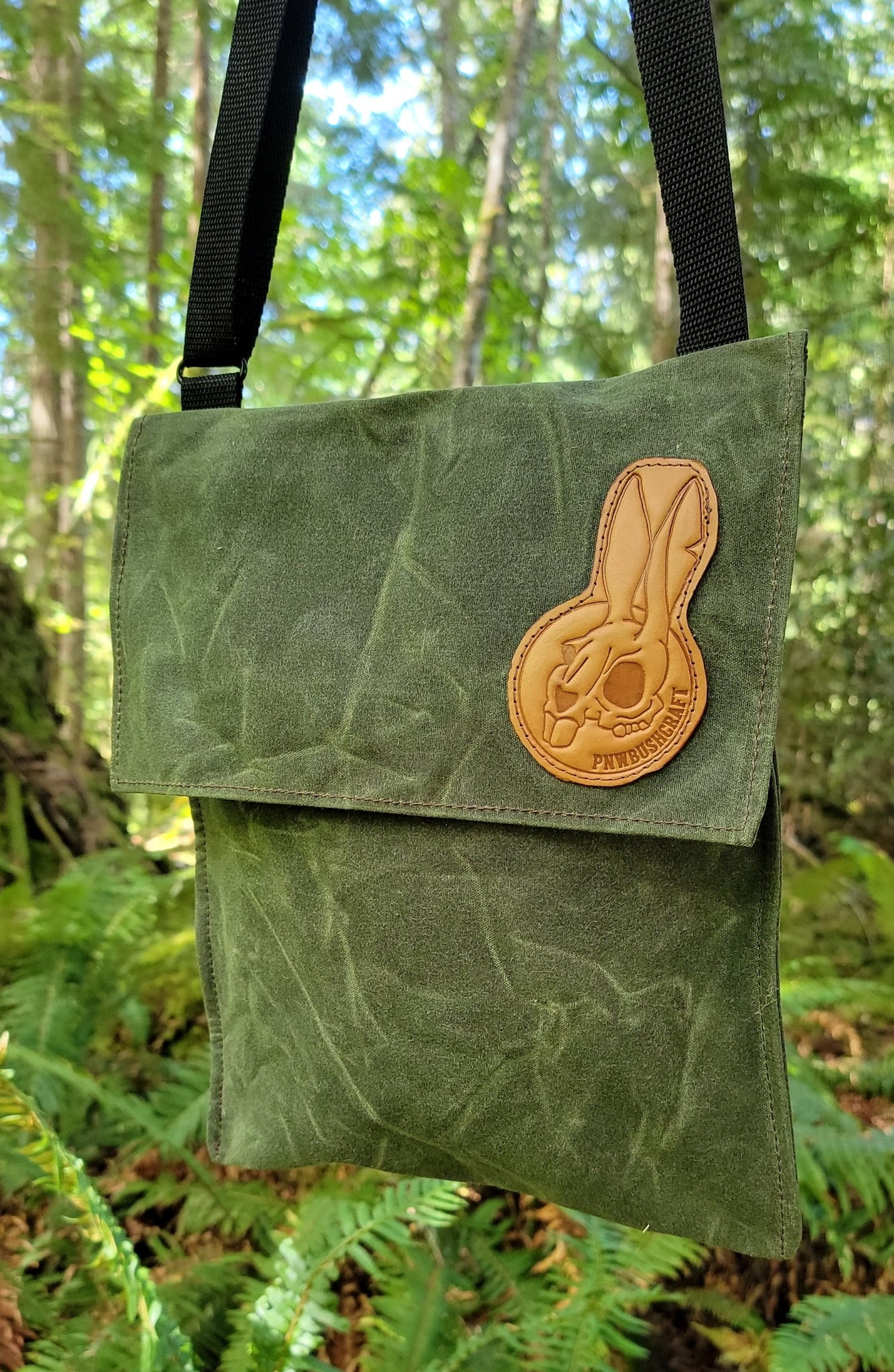 1. Death Bunny Waxed Canvas Haversack
The Death Bunny One of a Kind Waxed Canvas Haversack stands out as a great option for men who love the outdoors due to its rugged durability, versatility, and unique design. Crafted from high-quality waxed canvas, this haversack is built to withstand the rigors of the outdoors, providing a reliable and durable storage solution for camping gear and essentials. 
Moreover, the one-of-a-kind design adds a touch of individuality, appealing to men who appreciate distinctive and stylish outdoor gear. This haversack not only serves its functional purpose but also adds a dash of personality to any camping adventure, making it a perfect gift for outdoor lovers.
2. Bushcraft EDC Survival Card
The Bushcraft EDC Survival Card by GRIM workshop is a great addition to your gift list as it encapsulates creativity and practicality in a compact form. Unique camping gifts like this innovative gear card offer a miniaturized collection of essential camping tools and gear. 
It includes a tiny knife, fish hooks, and other survival necessities, ingeniously crafted to fit in a pocket-sized card. The attention to detail and precision in creating these functional tools also showcases the artistry and dedication behind this unique creation. This Bushcraft EDC Survival Card is a captivating and thoughtful gift for men who are passionate about bushcraft and spending time in the great outdoors.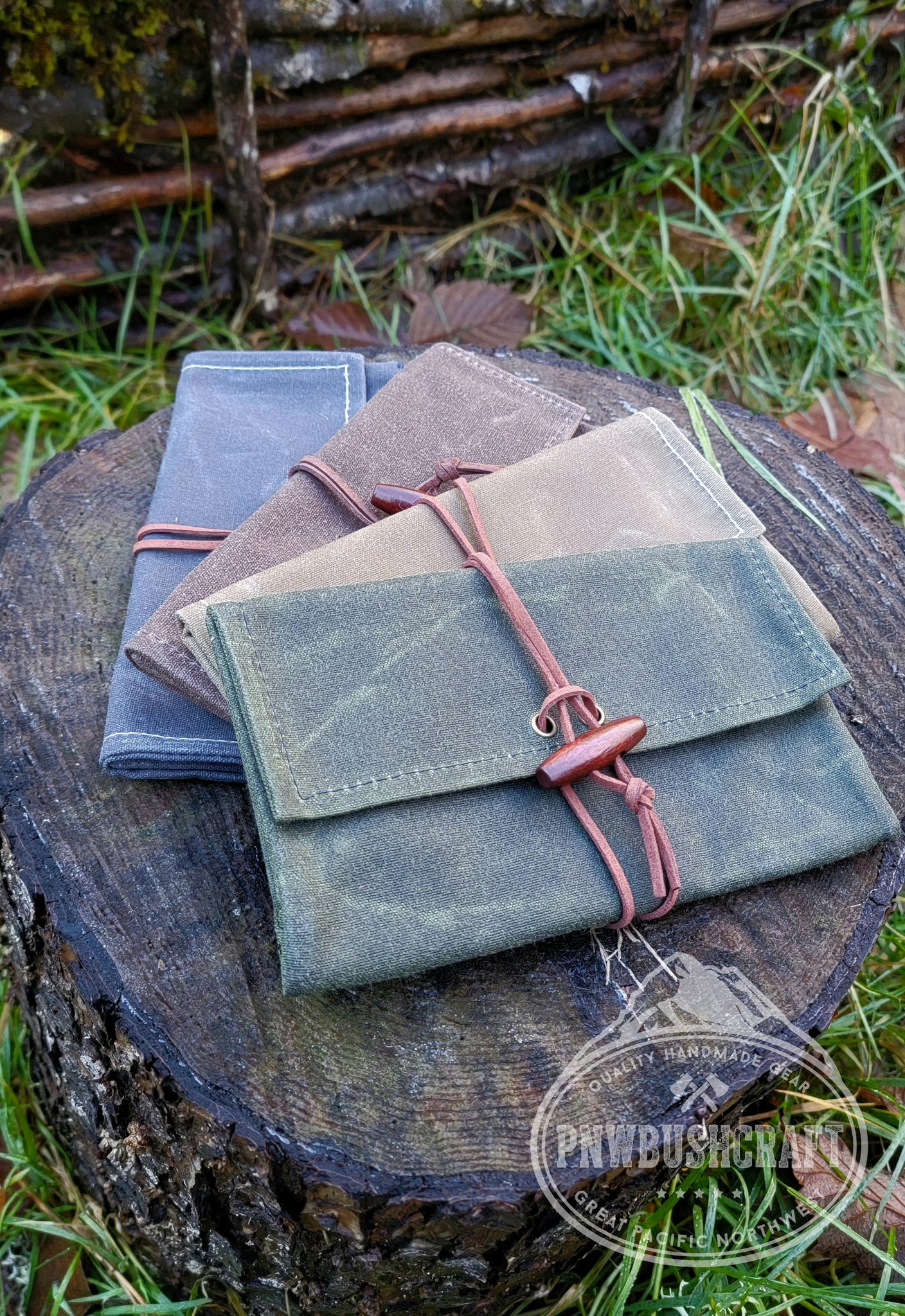 3. Handy Canvas Roll Up Pouch with Toggle
PNWBUSHCRAFT's Handy Canvas Roll Up Pouch with Toggle makes for a fantastic gift for the outdoorsy man due to its practicality, organization, and rugged design. Crafted from durable canvas, this pouch offers a versatile and compact storage solution that will take any camping adventure to the next level. 
Its roll-up design allows for easy access and efficient organization of tools, utensils, or vital accessories. The added toggle ensures a secure closure, keeping everything neatly in place during transportation or storage. 
In a nutshell, this handy pouch exemplifies convenience and efficiency, reflecting the essence of a well-prepared camper. It's a thoughtful and appreciated gift for any man who loves to embark on camping escapades.
4. Pocketknife Bag Slip in Waxed Canvas
If you're looking for unique gifts for outdoor use, the Pocketknife Bag Slip in Waxed Canvas stands as a great option. Crafted from tough, waxed canvas, this slip provides a secure and stylish means to carry a pocketknife during camping excursions. 
The design allows for easy access to the knife, ensuring readiness for various tasks on camp sites. The canvas material offers durability, protecting the knife from the elements and rugged use. Additionally, the aesthetic appeal of waxed canvas adds a touch of sophistication to outdoor gear, making it an ideal gift for the modern camper who values functionality and style in their camping accessories.
5. Rugged Waxed Canvas Foraging Bag, Hip Pouch
A great way to enjoy camping is through foraging and the Rugged Waxed Canvas Foraging Bag, Hip Pouch is your best bet due to its functionality, durability, and convenience. Made from tough waxed canvas, this hip pouch offers a rugged and reliable way for men to carry foraged items, tools, or small camping essentials while exploring the outdoors. 
Its design allows for hands-free carrying, making it ideal for hikes and camping trips where mobility and accessibility are crucial. Plus, the durability of waxed canvas ensures it can withstand the demands of outdoor use and the wear and tear of the wilderness. This pouch embodies utility and style, making it a thoughtful and practical gift for any man who enjoys venturing into nature and collecting treasures along the way.
Related: Discover the Ultimate Tool Roll Bag for Outdoor Enthusiasts
Amazon Camping Gift Ideas for Men 
6. Stanley GO Quick Flip Water Bottle
The Stanley GO Quick Flip Water Bottle makes an exceptional camping gift for men due to its durability, versatility, and functionality. Built with rugged stainless steel construction, it can endure the toughest outdoor conditions, ensuring it won't break or dent during rugged adventures. 
The double-wall vacuum insulation keeps beverages hot or cold for extended periods, providing a refreshing sip of water or a warm cup of coffee during chilly nights in the wilderness. Its leak-proof design and integrated carry loop make it convenient to attach to a backpack or belt, allowing for easy portability on hikes or outdoor activities. Additionally, the large capacity ensures an ample supply of hydration on the go, making it the perfect camping gift for outdoorsy men.
7. MalloMe Sleeping Bag
The MalloMe Sleeping Bag stands out as a great camping gift for men due to its exceptional quality, comfort, and versatility. Crafted with high-grade materials and precise stitching, it offers durability that withstands rugged camping conditions. 
The plush, warm interior and snug mummy-style design ensure a comfortable night's sleep, even in varying weather conditions. Its compact and lightweight nature make it easy to carry and pack, ideal for any camping or hiking trip. And the best part is that the versatile temperature rating accommodates various climates, making it a reliable choice for any adventurous man seeking a good night's rest under the stars.
8. Med Pouch from Tuff Possum Gear
A first aid kit is one of the best gifts for every outdoor enthusiast as it emphasizes safety and preparedness in the great outdoors. When exploring nature, emergency situations can happen, and having a well-equipped first aid kit can make a significant difference. 
This pouch is big enough to hold essential supplies to treat minor injuries, insect bites, cuts, or burns, ensuring quick and effective care. This level of preparedness not only boosts confidence but also allows for a more enjoyable and worry-free camping experience. A first aid kit demonstrates thoughtfulness and consideration for an outdoorsy person's well-being, emphasizing responsible outdoor adventure and promoting a sense of security while exploring the wilderness.
9. Coffee Gator French Press Coffee Maker - Thermal Insulated Brewer Plus Travel Jar
The Coffee Gator French Press Coffee Maker with a Thermal Insulated Brewer and Travel Jar is among the useful camping gifts for men who appreciate their coffee on the go. Its durable construction and thermal insulation capabilities ensure a piping hot brew, perfect for kickstarting an adventurous day during cold weather. 
The French press design allows for easy and efficient brewing, capturing the rich flavors and aromas of freshly ground coffee beans. Plus, the added travel jar enables convenient storage and portability, making it suitable for camping trips, hikes, or any outdoor expedition. This gift embodies the essence of a well-brewed cup of coffee amid the serenity of nature, enhancing the camping experience for any coffee-loving outdoorsman.
10. Goal Zero Yeti Portable Power Station
Looking for a rechargeable battery pack that will keep your electronic devices going? The Goal Zero Yeti Portable Power Station is an exceptional camping gift for men, epitomizing modern camping convenience and sustainability. Its robust design and reliable power storage capabilities provide a portable energy source, allowing for the charging of essential devices like smartphones, tablets, or even portable fridges while in the wilderness. 
This ensures connectivity and safety, allowing for emergency communications or capturing memorable moments through technology. With its solar power capabilities, it can harness the sun for recharging, promoting eco-friendliness and reducing the need for disposable batteries. For any man who loves both technology and road trips, this gift represents a fusion of functionality and sustainability, enhancing the camping experience to the fullest.
Related: Top 10 Best Outdoor Podcasts for Your Next Adventure
Bonus Gift Idea
Still looking for more great gift ideas? Why not give a gift card instead? A PNWBUSHCRAFT gift card is a fantastic camping gift for men as it offers the perfect opportunity for the recipient to choose high-quality, specialized gear tailored to their preferences and camping needs. 
At PNWBUSHCRAFT, we take pride in being a trusted source for high-quality outdoor equipment. This gift card serves as your golden ticket to an extensive range of indispensable camping gear and accessories. Catering to various outdoor interests, whether it's bushcraft, robust gear, or simply the desire to elevate the camping experience, our gift card opens up a world of possibilities.
Conclusion
We hope this list has given you plenty of inspiration and guidance to find the perfect gift for the outdoor-loving men in your life. No matter which item you pick, these gifts are sure to enhance their camping experiences and show them just how much they mean to you.
Remember, the joy of camping is not just about what we bring with us, but also about the memories we create and the connections we deepen. A thoughtful gift can be a beautiful part of that journey.
As you embark on your gift-finding quest, don't forget to explore more of PNWBUSHCRAFT's collection of handcrafted gear. 
Our products are not only functional and durable, but they're handcrafted with love and care, perfect for making your loved one's next camping trip all the more special.
Thank you for being a part of our PNWBUSHCRAFT community. 
Here's to many more adventures in the great outdoors!
Related: