Top 10 Outdoor Gift Ideas for Mom in 2023
Honor and celebrate the mothers in your life with these outdoor gift ideas for mom! 
As the saying goes, mothers are like buttons—they hold everything together. Whether your mom is an outdoor enthusiast or just appreciates the tranquility of nature, finding the perfect gift that aligns with her interests can be challenging. 
That's why we've curated this list of outdoor gift ideas for mom, featuring products from Amazon and our very own handcrafted products from PNWBUSHCRAFT, to help you find the best gifts to show appreciation for the incredible mother in your life.
Disclosure
At PNWBUSHCRAFT, we prioritize bringing you the best recommendations for your outdoor adventures. 
While our suggestions are largely influenced by the numerous positive reviews each product has garnered on Amazon, it's important to mention that we haven't had the opportunity to personally test all of them. Nevertheless, we believe the collective voice of the Amazon community serves as a resourceful guide for your needs.
Also, this post contains affiliate links, which means we make a small commission when a purchase is made after clicking through a link. This comes at no additional cost to you. Thanks for your support!
The Best Outdoor Gifts for Mom from PNWBUSHCRAFT
1. Handcrafted Drawstring Cinch Pack
Our Drawstring Cinch Pack is the ultimate outdoor gift for moms who thrive in the open air. Crafted with durability in mind, it can withstand the rigors of outdoor adventures, ensuring its reliability on hikes, camping trips, and nature walks. 
Its lightweight design offers comfort and the adjustable straps guarantee a perfect fit. Plus, the spacious main compartment allows moms to carry essentials like water bottles, snacks, and sunscreen with ease. With a stylish yet functional design, this cinch pack seamlessly transitions from the wilderness to urban settings, adding a touch of sophistication to any outfit. 
Additionally, it's an eco-friendly choice, aligning with the values of environmentally-conscious moms. This pack is more than just a bag; it's a companion for your mom's adventures, ready to carry your gear as you create unforgettable outdoor memories.
2. Grub Bag
Perfect for the mom who likes to stay organized even in the great outdoors, our convenient Grub Bag is a versatile bag that's been meticulously designed, assembled, and crafted in our small shop nestled in the beautiful Pacific Northwest. Each bag is unique and made with great care and attention to detail.
To put it simply, this Grub Bag will become an essential companion for your mom's outdoor adventures. Whether she's camping or hiking, this high-quality waxed canvas bag helps keep dishes and silverware organized and clean. With its robust construction and practical design, the Grub Bag by PNWBUSHCRAFT is a must-have accessory for any outdoor enthusiast.
3. Waxed Canvas Foraging Bag
If your mom has a knack for foraging, this Waxed Canvas Foraging Bag will surely make her day. It's spacious, durable, and designed with sturdy straps to comfortably carry around during long walks in the woods. 
Related: 10+ Unique and Practical Gifts for Mushroom Hunters
4. Waxed Canvas Pocketknife Roll Up
The Woodland Camo Waxed Canvas Pocketknife Roll Up V 2.0 is a must-have for your mom's travels. Made from 10.1 oz woodland waxed canvas, this roll-up offers a rugged and sturdy solution for storing and transporting her tools.
The roll-up features eight pockets that are 5.5" deep and 3" wide, providing ample space for various sizes of knives and other tools. Plus, the canvas used in the product undergoes a specialized waxing process dating back to the 1800s, which gives it a superior finish and ensures its durability.
This knife roll-up is not only functional but also stylish, with its new woodland camo design making it perfect for any outdoor adventure. Whether your mom's at home or on the go, this Pocketknife Roll Up is sure to keep her knives and other tools protected and organized.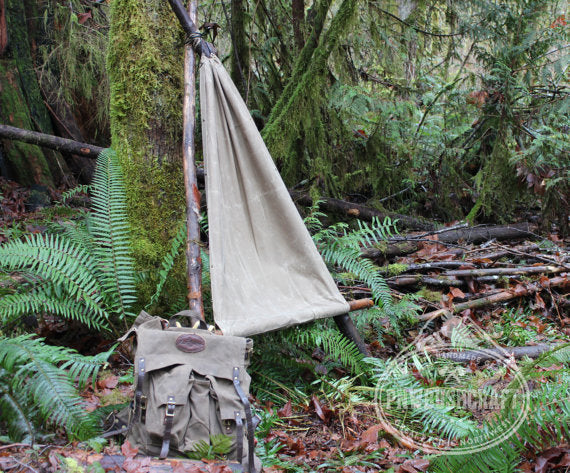 5. Waxed Canvas Ground Cloth / Hammock Chair
Meet the Waxed Canvas Ground Cloth/Hammock Chair, a versatile piece of outdoor gear that will elevate your mom's camping experience. This product is handcrafted and designed to serve multiple functions, making it an essential addition to outdoor adventures.
The ground cloth provides a clean and dry surface, perfect for a variety of camp chores or simply enjoying a picnic in the wilderness. It's made from 10.1 oz waxed canvas, providing durability and resistance against the elements.
But this product isn't just a ground cloth. It can also convert into a hammock chair using a two-point or three-point log system, providing a comfortable seat where your mom can relax and enjoy the beauty of nature. It also features four grommet holes at each corner, allowing her to hang it up when required.
Whether your mom is hiking, camping, or embarking on a bushcraft adventure, the Waxed Canvas Ground Cloth/Hammock Chair from PNWBUSHCRAFT is a multifunction essential that she won't want to leave behind.
All of these products from PNWBUSHCRAFT.com are handcrafted with love and designed to last, making them perfect gifts for your outdoor-loving mom. Each item is not only practical but also has a timeless, rustic appeal that any nature-loving mom will surely appreciate. 
And if you can't decide which product to get her, you can let mom choose her own special gift with a PNWBUSHCRAFT gift card.
Remember, giving a gift to your mom is not just about the item itself, but the thought and care you put into choosing something that she'll love and use. 
Whether your mom is a seasoned outdoorsy woman or simply enjoys the peace of nature, these gifts from PNWBUSHCRAFT are sure to make her next adventure even more enjoyable.
Amazon Gift Ideas for the Outdoor Mom
6. Stanley Classic Trigger Action Travel Mug
Any outdoorsy mom will definitely appreciate the Stanley Classic Trigger Action Mug, available in both 16 oz and 20 oz travel mugs. This mug is the perfect addition to a long hike or camping trip. It ensures that her beverages stay at the perfect temperature no matter where she wanders. 
Crafted for convenience, it features a leak-proof and packable design that prevents spills, no matter where she goes. In essence, this travel mug offers a balance of functionality, durability, and style, making it a must-have for anyone needing their favorite drinks on-the-go.
If mom prefers a water bottle to a travel mug, Stanley also offers the Stanley GO - The Quick Flip GO Bottle. This thoughtful gift will keep adventure-loving moms hydrated during their outdoor excursions. Plus, since this water bottle is reusable, mom won't need to worry about getting rid of plastic bottles during her trips!
Related: 10+ Outdoor Gift Ideas for Dad
7. Merino Wool Thermal Underwear
This Merino Wool Base Layer Set is a perfect blend of comfort, warmth, and style for the active woman in your life. This set includes a lightweight top and midweight bottom thermal underwear as well as a pair of Merino wool socks that are designed to keep your mom cozy in various weather conditions.
Crafted from 100% Merino wool, these pieces offer superior softness and breathability. The natural properties of Merino wool ensure excellent temperature regulation, keeping active moms warm in the cold and cool in the heat. The fabric also wicks away moisture, ensuring that your mom stays dry and comfortable throughout her outdoor activities.
8. Sleeping Bag
Another great gift for outdoor women is this 3-4 Seasons Sleeping Bag. Put simply, a high-quality sleeping bag is the best companion for camping, hiking, and backpacking adventures. Crafted to keep your mom snug and warm in cold weather, this sleeping bag is also lightweight and portable, making it easy to carry on all her outdoor excursions.
This sleeping bag also offers ample space without compromising on warmth and comfort. It features a waterproof exterior to protect your mom from damp environments, ensuring she stays dry even in unexpected weather conditions.
Plus, this sleeping bag comes with a compression sack, which makes packing up after a trip as easy as it can be. The sack compresses the sleeping bag into a compact size, freeing up valuable space in your mom's backpack.
9. Rumpl Blanket
The original puffy outdoor blanket from Rumpl is a packable, portable, warm blanket that your mom can take just about anywhere. This is a great pair for the sleeping bag, and it features the iconic Grand Canyon print, paying homage to one of the world's most stunning natural wonders.
Designed for the modern-day explorer, Rumpl blankets are crafted with the same technical materials found in premium sleeping bags and insulated jackets. It offers excellent warmth and comfort, whether your mom is camping under the stars, enjoying a beach trip, or attending an outdoor concert.
Lightweight and packable, this water-resistant blanket is easy to carry and perfect for traveling. Its durable construction ensures it withstands the rigors of outdoor use, while the vibrant print adds a touch of style to your mom's outdoor journeys.
10. Sun Hat with a Ponytail Hole
Finally, what better way to protect your mom from the sun during her outdoor activity than with a useful sun hat? This sun hat on Amazon is designed with women in mind by featuring a hole for a ponytail, bun, or braid to easily slip through. 
Featuring a generous 3" wide brim, this hat provides ample shade to protect the face and neck from the sun's harmful rays. Outdoorsy moms will also appreciate the UPF 50+ rating that ensures excellent sun protection, making it an ideal choice for activities like fishing, beach trips, or simply a day out in the sun.
Available in 1 & 2 PCS options, these hats are perfect for couples or families who love spending time outdoors. 
Related: Discover the Ultimate Tool Roll Bag for Outdoor Enthusiasts
Conclusion
In the end, finding the perfect outdoor gift for mom doesn't have to be a daunting task. With PNWBUSHCRAFT's diverse range of outdoor gear and accessories, you're sure to find a gift that matches your mom's adventurous spirit. 
Whether she's an avid hiker, a camping enthusiast, or simply loves to spend time in nature, our selection offers something for every outdoor-loving mom. 
So, go ahead and make her next outdoor adventure even more special with a thoughtful handcrafted gift from PNWBUSHCRAFT. 
Remember, the best gifts are those that create unforgettable memories, and nothing does that better than the great outdoors!
Related: