Exploring Pacific Northwest Road Trips with PNWBUSHCRAFT
Pacific Northwest road trips are a journey into the heart of nature's grandeur. The sheer beauty and diversity this region offers is truly unparalleled.
Yet, embarking on road trips in the PNW can feel daunting to many. The vast landscapes, countless trails, and diverse climates may even seem overwhelming for some travelers.
But here's the truth - with proper planning and an adventurous spirit, these road trips can become your most cherished experiences. In fact, driving through the Pacific Northwest offers a chance to behold the grandeur of North America's most remarkable natural attractions and make cherished memories while doing so.
Embracing the Open Roads of the Pacific Northwest
The appeal of a road trip in the Pacific Northwest is undeniable. This area, renowned for its gorgeous scenery and extensive open spaces, provides a remarkable experience to those who seek out adventure.
In essence, whether you're traversing through North Cascades National Park, scaling heights at Mount Rainier National Park, or exploring vibrant cities like Seattle and Portland, each journey promises unique experiences that will leave lasting impressions.
Pacific Coast Highway: A Route Worth Exploring
A noteworthy mention among these routes would be one along parts of the iconic Pacific Coast Highway. Although not entirely within our targeted area (as it stretches down into Northern California), this west coast highway provides some stunning coastal vistas in the PNW which are too good to miss out on when talking about road trips in this part of America.
A few must-see stops on this highway include:
Taking time to soak up views from Kerry Park overlooking Puget Sound;

Making stops at popular trail spots such as Forest Park or Columbia River Gorge;

Savoring fresh produce from local farm stands dotted along your way.
Cities Enroute: More than Just Pit Stops
Beyond nature's grandeur, urban attractions also add flavor to these journeys. Cities like Seattle with its bustling Pike Place Market downtown and the famous Space Needle offer delightful breaks amidst long drives.
You can't overlook Portland, either. Its cultural hotspots such as Powell's City Books make for enriching pit stops during your travels across Oregon. 
No matter where you head, rest assured there'll always be something interesting waiting around the next bend.
Related: Top 10 Best Outdoor Podcasts for Your Next Adventure
Discovering the "Beyond Twilight" Road Trip
The Pacific Northwest, a locale renowned for its breathtaking grandeur and varied topography, is the site of some of America's most scenic drives. One such journey that stands out from the rest is none other than Washington's very own "Beyond Twilight" road trip.
The Twilight series, both in print and on screen, has brought attention to the small town of Forks, WA. However, the whole Olympic Peninsula offers remarkable attractions that deserve exploration.
This epic adventure of exploring the peninsula by way of Highway 101 covers approximately 350 miles and takes about 2-3 days to complete. It offers an array of experiences ranging from quaint coastal towns like Port Angeles to rugged mountainous terrains found within Olympic National Park.
Unwinding at Sol Duc Hot Springs
To make your PNW road trip even more memorable, don't miss out on visiting Sol Duc Hot Springs, nestled right inside Olympic National Park. This natural hot spring serves as a haven for relaxation after exploring nature all day long.
The therapeutic properties of these warm waters are renowned far and wide - perfect for soothing those tired muscles post-hiking or simply unwinding amidst serene surroundings. Whether you're looking forward to rejuvenating yourself after an active day outdoors or seeking tranquility away from city life, Sol Duc Hot Springs fits perfectly into your itinerary while traveling through this part of Washington state.
Journeying Through "Fruit of Panorama Land"
Embarking on the "Fruit of Panorama Land" road trip is like stepping into a picturesque painting. This Washington-based journey heading north along I-395 from Spokane spans approximately 200 miles, making it one of the best places for a day trip. 
The route takes you through an array of farm stands and orchards, offering glimpses into Washington's agricultural heartland. The sightseeing doesn't stop there - it extends to breathtaking views of the Cascade Mountains that will have nature lovers reaching for their cameras.
Pacific Northwest Farm Stands
While traversing this trail, you'll come across numerous local farms where fresh produce awaits your taste buds. These pit stops offer more than just snacks; they provide insights into regional farming practices and allow interactions with locals who are always eager to share stories about their land.
Beyond these edible delights, seasonal harvest festivals might also coincide with your visit, adding another layer to your Pacific Northwest experience. Participating in such events could give you an authentic feel for our region's agrarian lifestyle while creating lasting memories along the way.
Town Visits Along The Route
This scenic drive isn't all rural landscapes though; several charming towns dotting this route beckon exploration, too. Each town has its unique allure, from cozy cafes serving locally sourced meals to art galleries showcasing regional talent, ensuring cultural enrichment at every turn during your Pacific Northwest road trip.
Road Trip Essentials For Your Journey
No matter if you're hitting up popular hiking trails in lush forests or soaking up spectacular views across different routes during your Pacific Northwest road trip, having reliable gear can enhance any outdoor experience along this route.
Here at PNWBUSHCRAFT, we're committed to providing outdoor enthusiasts with the highest quality gear. Our rugged, traditional waxed canvas products are designed to not only withstand the elements, but also last a lifetime. 
From our robust Foraging Pouch perfect for collecting wild harvests, to our versatile Waxed Canvas Travel Tray, we create gear that's practical and adds a touch of rustic charm to your outdoor adventures. We stand behind our products 100% and pride ourselves on excellent customer service, ensuring we're a reliable choice for your journey. 
As you plan your road trip, consider enhancing your outdoor experience with our reliable gear that's handcrafted right here in the Pacific Northwest.
Related: 10+ Camping Gear Gift Ideas for Outdoor Enthusiasts
Exploring The "Going Gorge-ous" Route
The Pacific Northwest, renowned for its picturesque scenery and assorted terrain, has a variety of road trips to choose from. One such journey is the "Going Gorge-ous" route that traverses through the Columbia River Gorge National Scenic Area and covers both Oregon and Washington over 200 miles in about 10 hours. 
For this trip, you'll want to leave from Portland and travel east along Interstate 84 in Oregon before making the journey back on the other side of the river by way of Washington State Route 14.
Visiting Bonneville Dam
An integral part of this adventure should be visiting Bonneville Dam. It not only provides panoramic views, but also gives insights into hydroelectric power production.
Built during President Franklin D Roosevelt's New Deal program era, this dam has been pivotal in providing electricity across North America. You can learn more about its history while relishing river vistas from various viewing points around the dam site. Apart from being educational, these stops offer perfect photo ops, too.
Multnomah Falls: An Iconic Landmark
Oregon boasts several picturesque sites; however, Multnomah Falls stands out amongst them all with cascading waters falling over two tiers against a lush forest backdrop, offering an unforgettable sightseeing experience.
If you're planning a successful Pacific Northwest road trip, then packing essentials like comfortable shoes for those long walks at places like Multnomah Falls becomes crucial. And don't forget your PNWBUSHCRAFT gear! Designed with durability and practicality in mind, our gear will undoubtedly enhance your outdoor experience, making each moment of your adventure more enjoyable and memorable.
Venturing Through Hells And Back
Embarking on the "Through Hells and Back" road trip to Hells Canyon is a testament to Oregon's diverse landscapes, from the canyons' rugged beauty to Wallowa rivers' serene flow. A unique feature along your journey to this destination will be a ride on the Wallowa Lake Tramway to the top of Mt. Howard, boasting incredible views from 8,300 feet above sea level.
The breathtaking views here are quintessential Pacific Northwest - grandeur that truly captures this region's essence. For this trip, you'll want to take Interstate 84 from Portland and travel east to State Route 86, which will take you to the Hells Canyon Overlook.
Related: 10+ Outdoor Gift Ideas for Dad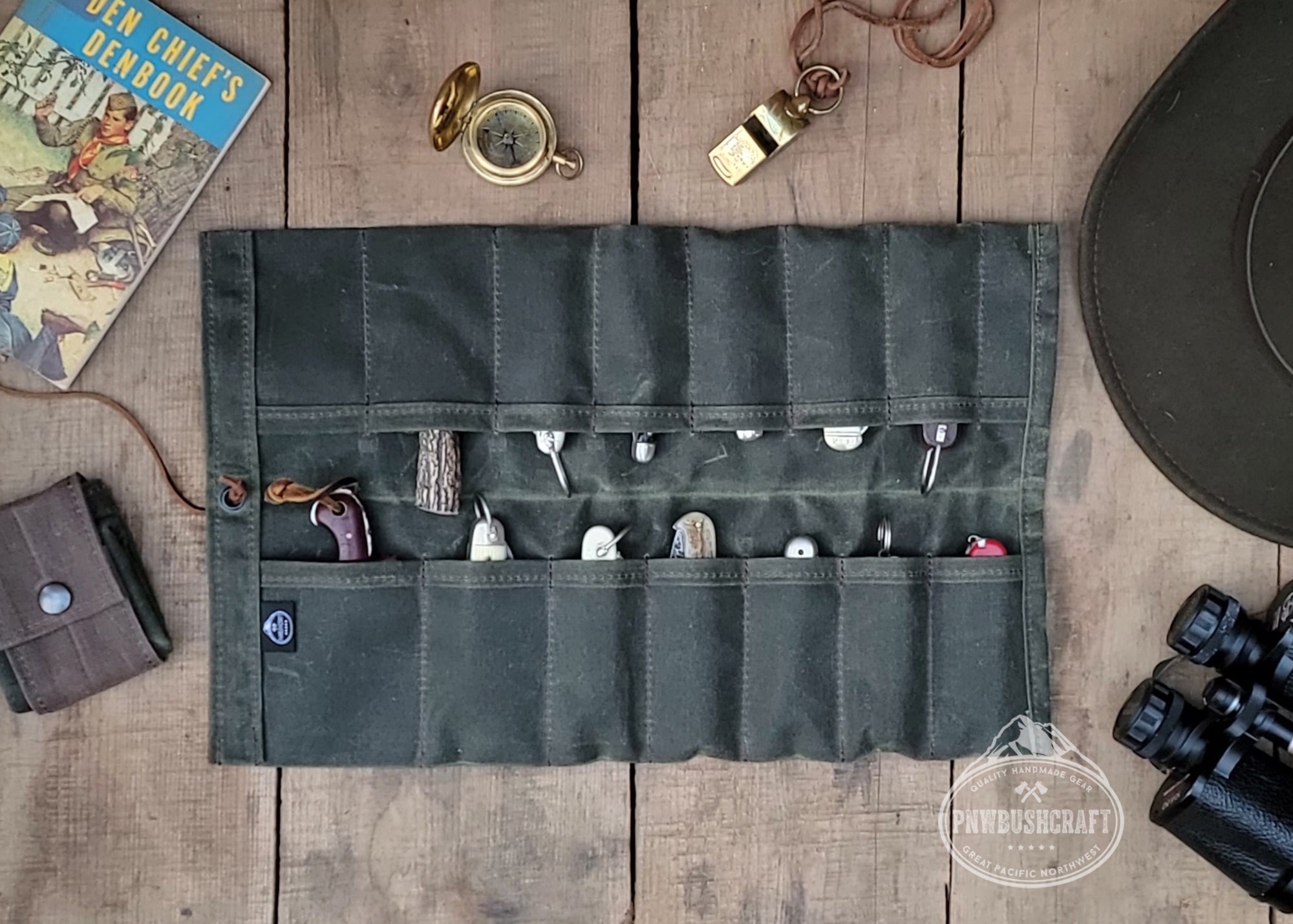 Enhancing Your Road Trip Experience with PNWBUSHCRAFT Gear
The Pacific Northwest is a playground for outdoor enthusiasts. With its diverse landscapes, it offers boundless opportunities for exploration and adventure.
To truly appreciate the beauty of this region and ensure a safe journey, reliable gear is non-negotiable. This understanding forms the foundation of PNWBUSHCRAFT, your trusted partner in outdoor gear.
A family-owned business nestled in the heartland of the Pacific Northwest, we handcraft quality outdoor gear using materials sourced from reputable companies in the United States.
Our collection includes a range of products, each thoughtfully designed to meet the demands of the great outdoors. One of our customer favorites is the Cedar Bucket Bag, which ensures you have ample storage space for all your adventure essentials. Another must-have item to consider for your PNW road trips is our Pocketknife Roll Up. Say goodbye to rummaging through your backpack or wasting time searching for the right tool - with our Pocketknife Roll Up, everything is neatly organized and within reach.
Moreover, we believe in adding a touch of charm to your outdoor adventures. Our traditional waxed canvas gear not only offers practicality but also imparts a rustic aesthetic that complements the natural beauty of the Pacific Northwest.
As you plan your next road trip, consider equipping yourself with PNWBUSHCRAFT gear. Not only will our products enhance your outdoor experience, they'll also provide the reliability and peace of mind you need when venturing into the wild. With PNWBUSHCRAFT, you're not just buying gear - you're investing in a lifestyle defined by adventure, exploration, and appreciation for nature's wonders. 
FAQs About Pacific Northwest Road Trips
How to road trip the Pacific Northwest?
Pick a route, pack your essentials including your PNWBUSHCRAFT gear, ensure your vehicle is in good condition, and hit the open road! You'll get to explore scenic routes, national parks, hiking trails, and soak in the diverse landscapes of Washington and Oregon.
What is the best time of year to visit the Pacific Northwest?
The ideal time for a road trip in the Pacific Northwest is late spring through early fall when weather conditions are most favorable for mountain roads and outdoor activities.
What is so great about the Pacific Northwest?
The region boasts stunning natural beauty with its vast forests, rugged coastlines, majestic mountains, and high desert landscapes. It's an outdoor enthusiast's paradise offering endless opportunities for exploration.
Why do people love the Pacific Northwest?
Besides its breathtaking scenery, people love the PNW for its unique culture. Think craft breweries, artisan coffee shops, and local art scenes, as well as abundant wildlife spotting opportunities.
Conclusion
Exploring the open roads of the Pacific Northwest is truly a journey into nature's grandeur.
The diversity and beauty are unparalleled, from Washington's "Beyond Twilight" route to Oregon's "Through Hells and Back" road trip.
In this article, you've discovered scenic routes, popular trails, and must-visit spots like Sol Duc Hot Springs and Wallowa Lake Tramway. Every road trip in the PNW has its unique charm, from farm stands in Eastern Washington to breathtaking views at Columbia River Gorge in Oregon.
And don't forget that every adventure can be enhanced with our PNWBUSHCRAFT gear that's handcrafted right here in the Pacific Northwest and made for explorers like you who appreciate quality materials sourced from reputable U.S. companies.
So, pack your bags, fuel up your car, and get ready to embark on an unforgettable adventure through the Pacific Northwest. Let the open roads guide you to breathtaking vistas, hidden trails, and unforgettable experiences. Embrace the freedom, beauty, and adventure that await you in this remarkable region.
Safe travels and happy exploring!
Related: