10+ Unique and Practical Gifts for Mushroom Hunters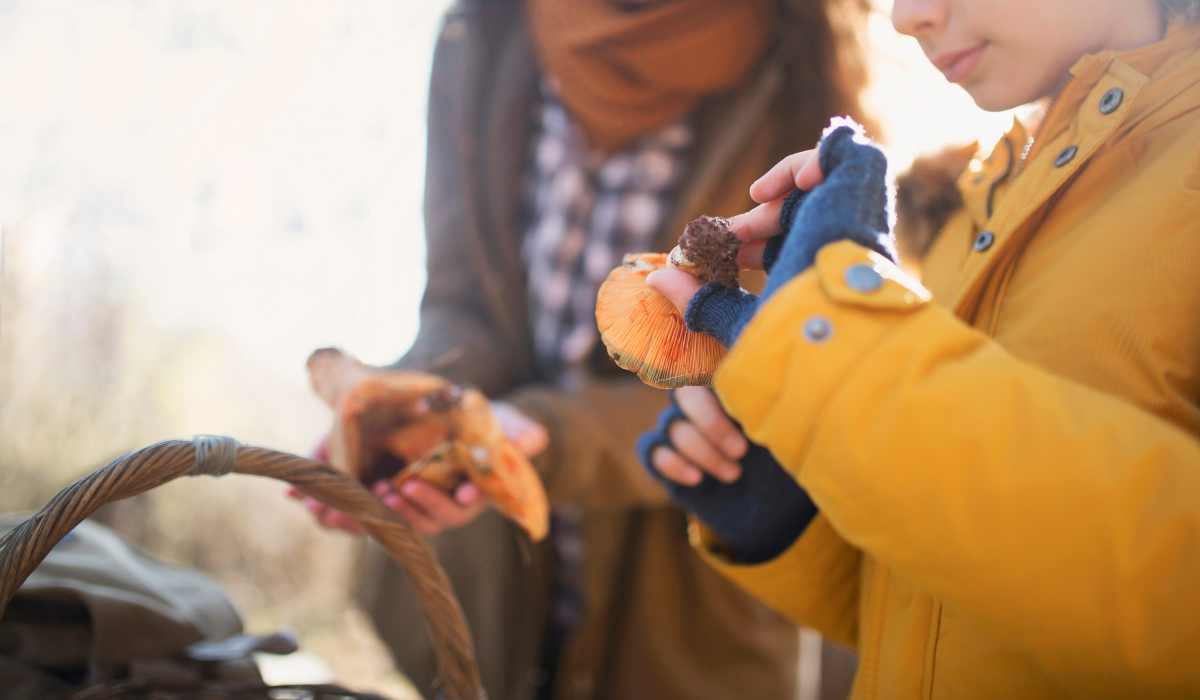 Finding the best gifts for mushroom hunters can be challenging terrain to navigate.
Finding that perfect gift, one that combines functionality with personal interest, is no easy feat. But when it comes to mushroom enthusiasts, the challenge gets even more interesting.
You see, these aren't your average hobbyists. Mushroom hunting requires a unique blend of passion and patience—not unlike finding their ideal present!
The key lies in understanding what makes them tick: from handcrafted gear and gourmet treats to books filled with fungal facts. Get ready for an expedition into the world of gifts for mushroom hunters!
Disclosure
At PNWBUSHCRAFT, we prioritize bringing you the best recommendations for your outdoor adventures. 
However, for safety reasons, we highly recommend to mushroom hunt with someone who has experience in identifying species. There are a great deal of look alike mushrooms and a lot of different factors to consider to properly identify mushrooms. A second opinion on identifying mushrooms is always a great idea.
While our suggestions are largely influenced by the numerous positive reviews this gift list has garnered on Amazon, it's important to mention that we haven't had the opportunity to personally test all of them. Nevertheless, we believe the collective voice of the Amazon community serves as a resourceful guide for your needs.
Also, this post contains affiliate links, which means we make a small commission when a purchase is made after clicking through a link. This comes at no additional cost to you. Thanks for your support!
Unearthing Unique and Practical Gifts for Mushroom Hunters
Mushroom hunting is more than just a hobby; it's an exciting adventure that connects nature enthusiasts with the earthy beauty of fungi. Choosing gifts that cater to this passion can be quite tricky.
No matter if they're seasoned hunters or beginners embarking on their fungal journey, thoughtful gifts that can enhance their experience are always welcomed warmly. 
Here's our top gift ideas for any mycophile (mushroom lover) in your life. 
Handcrafted Foraging Gear for the Mushroom Forager - Our Top Picks from PNWBUSHCRAFT
At PNWBUSHCRAFT, we take pride in offering a variety of products that make perfect gifts for any avid mushroom hunter. These items are handcrafted using quality materials sourced right here in America, which guarantees durability and longevity.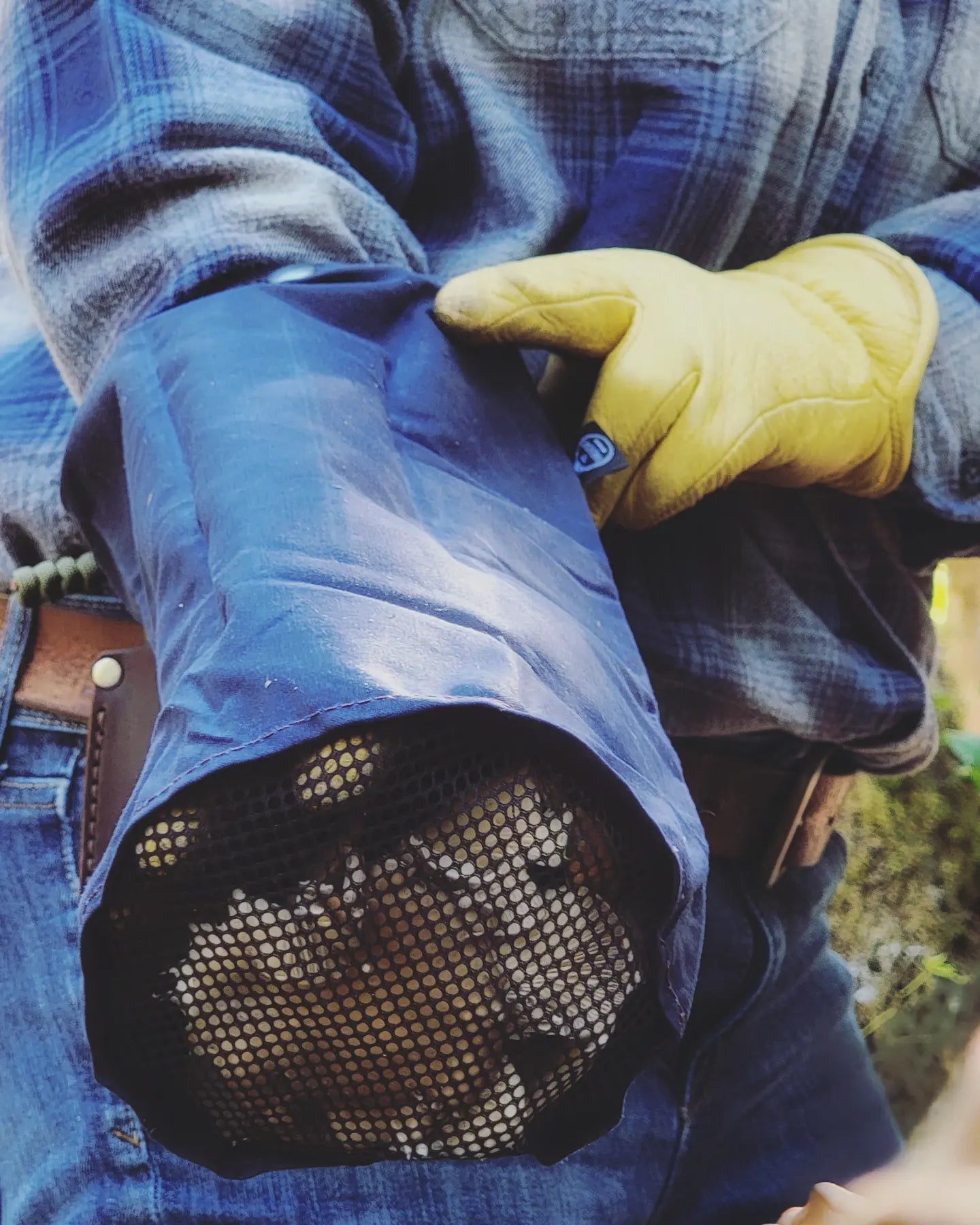 1. Mushroom Foraging Pouch, Hip Bag
Mushroom hunting, a favorite pastime among nature enthusiasts in the Pacific Northwest and beyond, calls for some unique gear. One such essential is our handcrafted Mushroom Foraging Pouch.
This hip foraging bag provides ample room to store delicate mushrooms while ensuring their safety during outdoor adventures. The sturdy construction makes it resilient against rough terrains and inclement weather conditions common on mushroom hunts. Its design is not only practical but also thoughtful, featuring a mesh bottom that allows mushroom spores to spread, contributing to future mushroom growth during your foraging expeditions.
2. Finn the Forager Adventure Gnome T-shirt
A standout amongst these fun and useful gifts is the Finn the Forager Adventure Gnome Unisex T-shirt. This t-shirt is perfect for mushroom enthusiasts with its soft and lightweight fabric, making it a must-have for their wild mushroom adventures.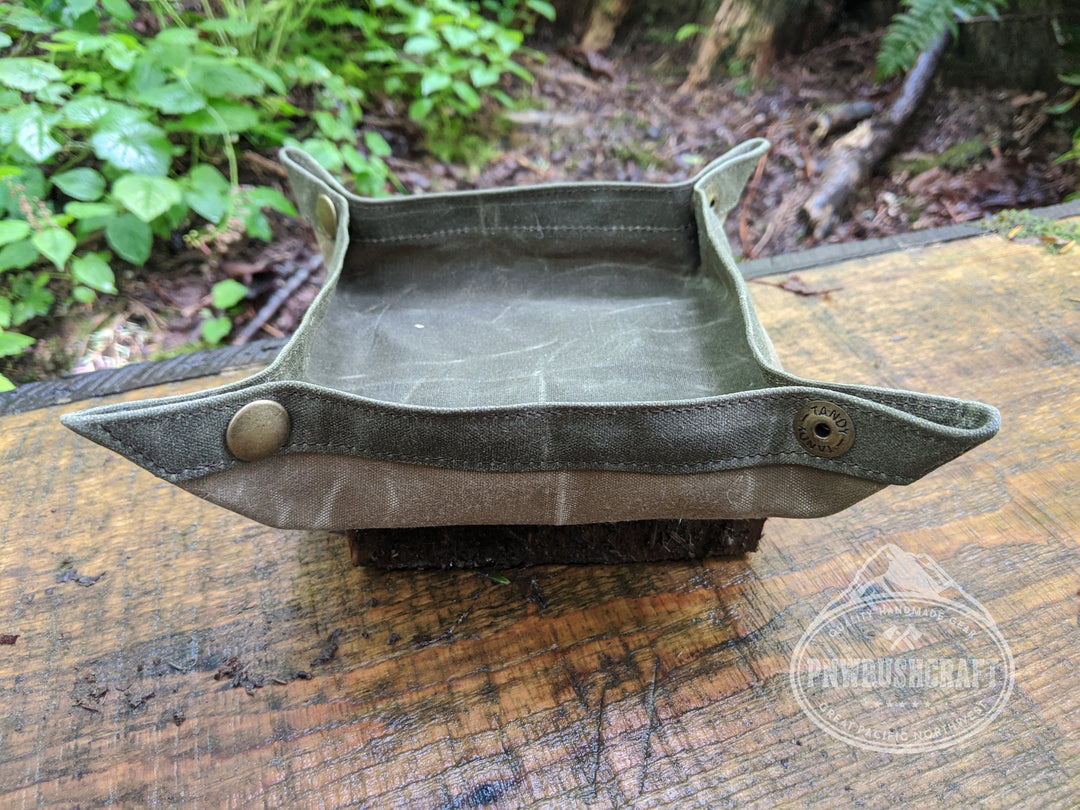 3. Waxed Canvas Travel Tray
Another thoughtful gift for the mushroom farmer is this Waxed Canvas Travel Tray, available in four different sizes. It offers a great way to store and display the wild edibles collected!
4. Pocketknife Bag Slip in Waxed Canvas
Of course, we need to include this Pocketknife Bag Slip on our list. This gift idea provides the mushroom hunter in your life easy access to an essential tool for foraging—their trusty pocket knife!
More Gifts for Mushroom Hunters
5. Field Guides and Research Books
When it comes to mushroom hunting, there's a whole world of literature out there that can deepen your understanding and appreciation for this unique hobby
If you're looking for practical resources, then consider gifting them something like the Peterson Field Guide to Mushrooms of North America. Both beginners and experienced hunters will find this mushroom identification book filled with value.
In addition, research-oriented books offer another layer of depth when exploring mycology. For instance, Finding The Mother Tree, penned by Suzanne Simard, dives deep into how trees communicate through fungal networks underground. 
For more books that would make excellent gifts, we've curated a list of our top 10 books about mushrooms & foraging. These books provide a wealth of knowledge from identification tips to cooking recipes, making them perfect gifts for mushroom hunters.
Related: Top 10 Books about Mushrooms & Foraging
6. Mushroom Throw Blanket
This soft throw blanket is an ideal gift for those who love to relax after a long day of foraging. Made from plush fleece fabric, this blanket features a whimsical mushroom pattern that brings the charm of the forest into your home. 
It's perfect for cozying up on the couch with a good book, or adding a touch of nature-inspired decor to any room. Whether it's for warming up or displaying as a throw, this blanket is a delightful addition to any mushroom hunter's collection.
7. Mushroom Hunting Logbook
A Mushroom Hunting Logbook is the perfect companion for every mushroom foraging trip. It allows enthusiasts to keep track of their finds, noting down details about the species, location, and date of discovery, fostering a deeper connection with their hobby and the natural world.
8. "I Put the Fun in Fungus" Socks
These adorable socks ​​are an amusing and comfortable gift for mushroom enthusiasts. With their playful mushroom design and cozy fabric, they're perfect for lounging after a long day of foraging or simply showcasing a love for mycology in style.
9. Organic Mushroom Coffee
If your favorite mushroom hunter family member or friend is also a coffee lover, why not blend the two passions together? Enter dark roast organic mushroom coffee. This isn't just any cup of joe—it's an adventurous brew infused with medicinal mushrooms like Chaga and Lion's Mane to kick-start those early morning hunts.
10. Organic Shiitake Mushroom Grow Kit
This Organic Shiitake Mushroom Grow Kit is a unique and engaging gift for mushroom enthusiasts. This DIY kit allows you to grow your own gourmet shiitake mushrooms at home, providing both an educational experience and a source of delicious, home-grown produce. Easy to use and incredibly satisfying, this kit offers a hands-on approach to understanding mushroom cultivation—something any Mushroom enthusiast would appreciate and enjoy. 
Related: Exploring Pacific Northwest Road Trips with PNWBUSHCRAFT
FAQs in Relation to Gifts for Mushroom Hunters
What do you call mushroom hunters?
Mushroom hunters are often referred to as "foragers" or "mycophagists," which means fungus eaters.
What to buy the mushroom hunter?
This article includes some of the best gifts for mushroom hunters, from engaging literature and handy field guides, to cozy mushroom-themed apparel and DIY cultivation kits.
What do you wear to mushroom foraging?
You should wear sturdy shoes, long pants, a hat, gloves, and bring along a basket or bag when going on a mushroom hunt. Dressing appropriately helps protect against potential hazards in the wild.
What does the mushroom mean as a gift?
A mushroom gift symbolizes nature, growth, and uniqueness. It's an ideal present for those who appreciate outdoor activities like foraging or have an interest in mycology.
Related: 10+ Wedding Gifts for Outdoorsy Couples
Conclusion
Unearthing the perfect gifts for mushroom hunters can be a thrilling adventure, much like the hunt itself. It isn't always straightforward, as it requires a balance of practicality, novelty, and an understanding of the recipient's interests. 
Whether they're novices or experienced foragers, the gifts highlighted in this guide—from handcrafted gear, informative books, and handy field guides to cozy mushroom-themed items and DIY mushroom cultivation kits—cater to a wide range of preferences. 
These thoughtful gifts not only foster a deeper connection with the fascinating world of mycology, but also add a fun and personal touch, making them ideal for any mushroom enthusiast. 
So, the next time you need to pick a present for a mushroom hunter in your life, remember that the best gifts are those that celebrate and enhance their unique passion.
If you're looking for something unique yet practical, consider our PNWBUSHCRAFT gear. 
Handcrafted in the Pacific Northwest with quality materials sourced from reputable U.S. companies, our gear is more than just a gift—it's an experience that any mushroom hunter would appreciate. 
Click here to explore our collection today.
Related: