Essential Guide to Choosing Your Backpacking Fishing Gear
When it comes to backpacking fishing gear, selecting the right equipment can definitely give you the best fishing experience. This article is here to direct you through the procedure of selecting and caring for your gear, guaranteeing that you're all set for even the most impromptu backcountry fly fishing venture.
We'll explore basic gear items such as your trusty fly rod and spinning reels that are suitable for beginners and advanced anglers alike. We'll also discuss compact options that are ideal for those who value portability in their backpacking fishing gear.
Lastly, we'll explore how factors like target species and weight limitations should influence your selection process. From specialized footwear to storage solutions, multi-tools, and even first aid items, this comprehensive guide covers it all.
Disclosure: This post contains affiliate links, which means we make a small commission when a purchase is made after clicking through a link. This comes at no additional cost to you. Thanks for your support!
Essential Backpacking Fishing Gear
For those who savor the stillness and trial of snaring their own fish, having reliable backpacking fishing equipment is a must. From lightweight fly rods to compact accessories, choosing the right equipment can enhance your fishing experience while on your trip. 
That's why it's important to prioritize gear that suits your skill level and target species.
If it's your first time fly fishing, these rods are a great place to start. You can easily reel in your catch with these beginner-friendly sets.
If you're experienced, these are some of the best backpacking fishing rods to go for. They offer more control over casting distance as well as better accuracy to catch larger fish.
When it comes to backpacking fishing gear, portability and functionality are key. That's why these rods serve as excellent additions to your fishing kit. Their compact designs allow for easy packing without compromising on the fishing experience, making them ideal companions for any angling enthusiast on the move.
Tiny Pocketknife Bag Slip in Waxed Canvas
These rugged tiny sleeves are the perfect solution to keep your pocketknife cozy! Crafted from 10.1 oz waxed canvas cloth, they're highly durable and can withstand any weather condition. 
Plus, at 2 inches wide and 4 inches deep with an internal space of 1.75 x 4 inches, they can comfortably fit most standard pocketknives up to 2.75 inches wide and 3.75 inches tall.
These sleeves are handcrafted in the Pacific Northwest and designed with fun and functionality in mind. Made from all-waxed canvas or a combination of waxed canvas and vintage wool, they offer a beautiful and creative way to store your pocketknife. They're also versatile enough to be used for storing small items such as lighters and chapstick.
Selecting Your Backpacking Fishing Gear
Choosing the right backpacking fishing gear is crucial for your outdoor adventure. Don't just grab any old rod or reel. Instead, consider factors like the target species you're fishing for, size and weight limitations, and material preferences.
Importance of Target Species
In short, the fish you're after will determine your gear. For example, for a trout in a mountain stream, you would want to go for a lightweight fly rod. However, if you're tackling bass or pike, you'll need extra weight for your spinning rod than what a lightweight rod can offer. Check out this guide on different types of fishing rods for help making an informed decision.
Size & Weight Limitations
When it comes to backpacking fishing gear, whatever you purchase should fit comfortably in your backpack without having to think too much about the weight of the rod. Look for compact and collapsible rod options that are easy to assemble, yet sturdy enough for the great outdoors. 
Benefits of Graphite Rods
Many seasoned anglers love graphite rods for their sensitivity and durability. This type of rod can help you detect bites from any type of fish while also having the ability to handle big catches without snapping like a twig. 
Remember, each item of gear on this list has its own use prerequisites and maintenance requirements. We recommend taking the time to understand these components for every piece of gear you buy to ensure long-lasting usability.
Additional Must-Haves for Backpacker-Fishermen
Aside from fishing rods, here are some other essentials you don't want to forget:
Bug Soother Spray
Don't let those annoying bugs ruin your fishing adventure! Arm yourself with a natural and reliable bug spray like this one to keep mosquitoes, ticks, and other pests at bay. 
Death Bunny Handcrafted Paracord Bead
Elevate your gear's level of badassery with this meticulously crafted Death Bunny bead. This iconic design has been our unofficial mascot for years, and now you can own a metal paracord bead that's poured right here on our PNW property. Made from Britannia material, this bead features a 1/4" hole and measures 1" long by 1.25" tall, making it an ideal addition to your knife or Bucket Bag.
Each bead is uniquely handmade by Todd, our resident mad scientist, so no two pieces are exactly alike. Please note that the paracord is not included, and you will only receive the bead itself.
Get your hands on this classic Death Bunny bead today and add an extra touch of edginess to your backpacking fishing gear.
Multi-tools: The Swiss Army Knife of the Outdoors
A trusty multi-tool is always a great addition for any outdoor enthusiast's gear list. It's like having a toolbox in your pocket or tackle box. From cutting lines to removing hooks, a good multi-tool can handle it all. If you have a higher budget for a multi-tool, check out the tools made by Leatherman for top-notch and outdoor-specific options.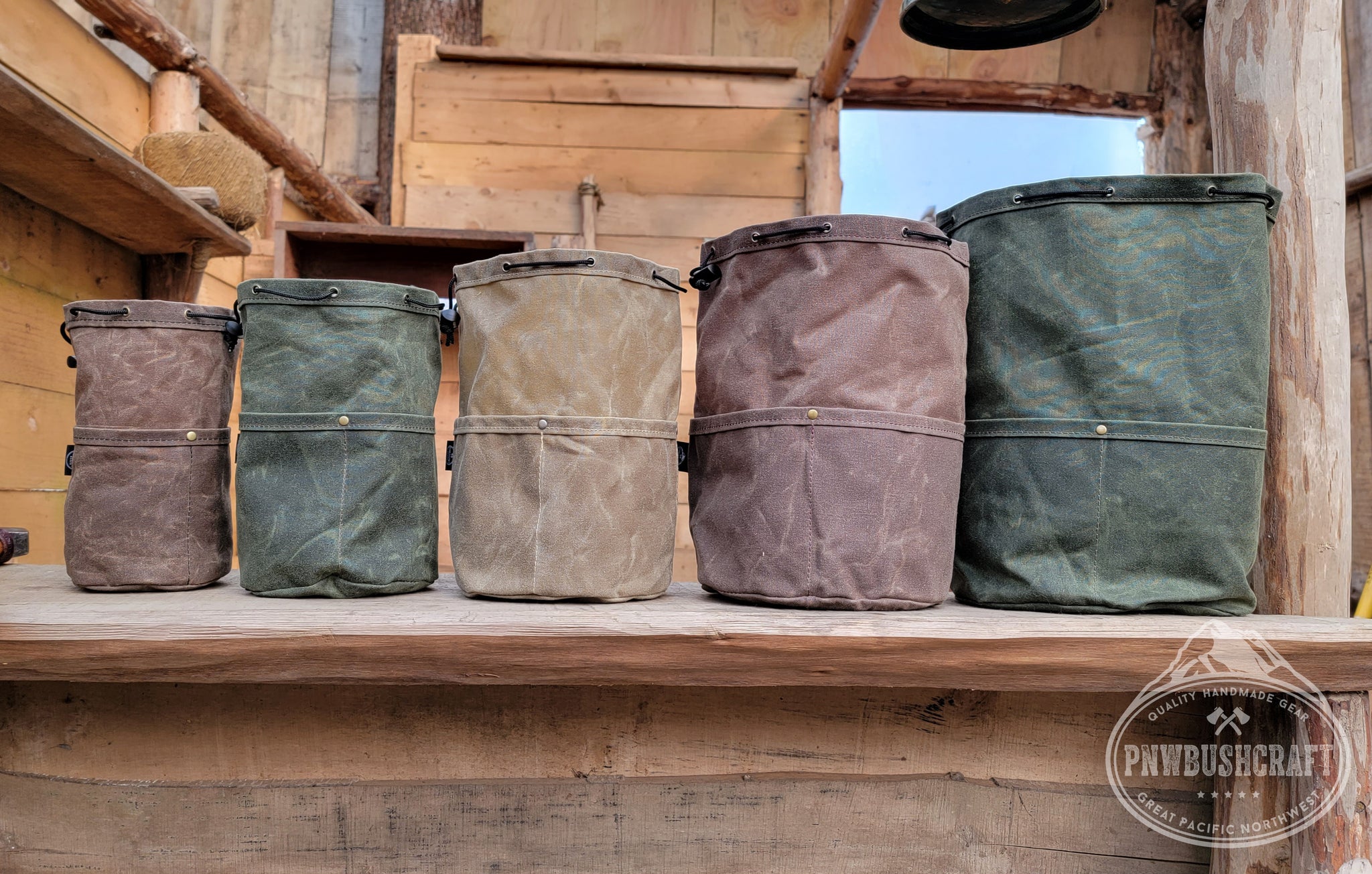 PNWBUSHCRAFT's Cedar Bucket Bag with Outside Pockets
The Cedar Bucket Bag from PNWBUSHCRAFT is a great product that boasts rugged durability mixed with stylish design. Our family in the Pacific Northwest has crafted this waxed canvas masterpiece with meticulous attention to detail, and it's available in five different sizes to suit all your adventure needs, whether you need one that's extra small or extra large.
It also comes in four stunning colors to match your personal style. Whether you prefer olive green for your outdoor excursions, classic field tan, or the rich and rustic look of brown or gray, there's a nature-toned color for everyone.
Plus, our Cedar Bag features outside pockets that are perfect for storing all of your outdoor essentials, including utensils, seasoning, matches, and anything else you might need on your backpacking fishing trip. These bags are also great for organizing carving tools, project bags, and creative supplies.
Specialized Footwear and Storage Solutions for Anglers on the Move
Don't let the river sweep you off your feet! Investing in hiking boots designed specifically for wading is a great way to ensure you won't unexpectedly go for a swim while fishing.
Wading Boots That Won't Let You Slip
The Simms Tributary Rubber Sole Wading Boots provide excellent grip on slippery surfaces, so you can focus on reeling in your catch without taking an unexpected dip. Plus, they dry quickly after getting wet, which is a game-changer during those multi-day backpacking trips.
Compact Storage Bag
When it comes to storage for these types of outdoor tips, it's important to think compact and efficient. For comprehensive storage, checkout the Aertiavty Compact Fishing Bag. It's small but mighty, with just enough room for a fly box, hook keeper, tippet line, and other essentials. Iit even has buckles for attaching straps to your waders. Talk about convenience!
Netting Your Catch with the Lightweight Ego Trout Fishing Net
Don't forget about netting your catch while you're out there. The Ego Trout Fishing Net is lightweight yet durable, which is the perfect combo for any angler on the go. The included hook makes it a cinch to attach the net to your backpack, so it'll always be right there when you need it. No more wrestling with a big, bulky net thanks to this little guy.
In essence, good quality footwear along with smart storage solutions can make all the difference on your fishing trip. Plus, investing in reliable tools like the Ego Trout Fishing Net can help ensure a successful and rewarding experience every time you head out into the wilderness.
Conclusion
Choosing the right backpacking fishing gear is key to having a successful and enjoyable experience. With this guide, you now have all the information necessary for making smart selections that match your budget and needs. 
From specialized wading boots with extra grip to lightweight nets for netting your catch, there are plenty of great options out there if you know what to look for. 
If you keep these tips in mind when selecting your gear, you'll be well on your way to becoming an expert backpacker-fisherman!
At PNWBUSHCRAFT, we understand that the right gear is crucial for a successful and enjoyable backpacking fishing experience. That's why we offer a wide array of high-quality and durable products tailored to meet the specific needs of outdoor enthusiasts, including backpacking fishermen. 
From rugged pocketknife bag slips to sturdy bucket bags with pockets, our gear is designed to withstand the challenges of outdoor adventures. When you choose PNWBUSHCRAFT, you're not just purchasing equipment, but investing in reliability and longevity. 
Equip yourself with PNWBUSHCRAFT gear for your next trip and get ready to elevate your backpacking fishing adventures to unprecedented heights!